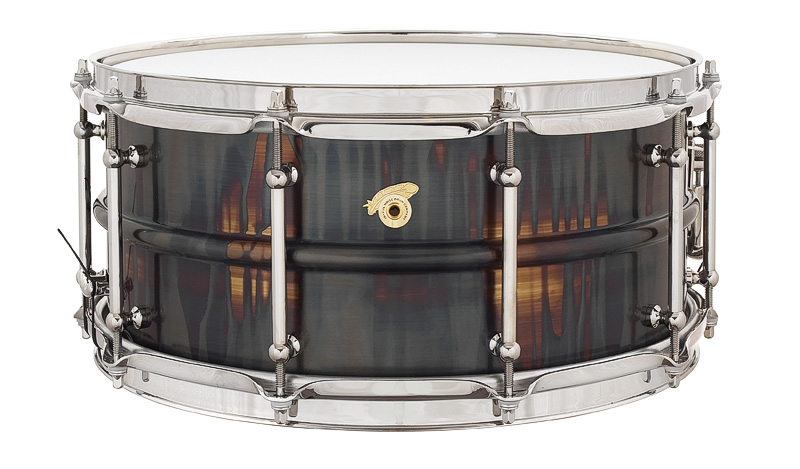 The JNDC TKO is a hand-selected seamless brass shell chosen for its extraordinary vibrance. As a result, these drums speak with exceptional ease and produce an extremely wide range of color, delivering an explosive presence that is literally felt, as well as, heard. Once the shell is hand-selected, the bearing edges and snare beds are finished by hand in order to refine and optimize the sonic performance. The shell is bright polished in preparation of the patina process, rendering an unrestricted finish that resembles a scorching hot tailpipe, and heat-sealed with 100% Carnauba wax.
The TKO is explosive, sensitive, and full of color, both visually and sonically. The TKO model design and hardware consist of 2.5mm solid brass bright nickel-plated triple flanged hoops, ten solid brass bright nickel-plated Corder tube lugs, bell-flanged bearing edges, vintage-inspired crimped snare beds, 24k gold-plated brass JNDC feather motif drum badge, and the bright nickelplated proprietary cast bronze JNDC "One Touch Classic" snare drum strainer (throw-off) system.
A certificate of authenticity, serialized lapel badge, JNDC Strainer Tutorial DVD, and a complimentary embroidered soft shell case accompany each instrument. The JNDC TKO is available in 6.5x14, 5x14, and 4x14 sizes.
Order Fulfillment Time: Approximately 60-90 Days