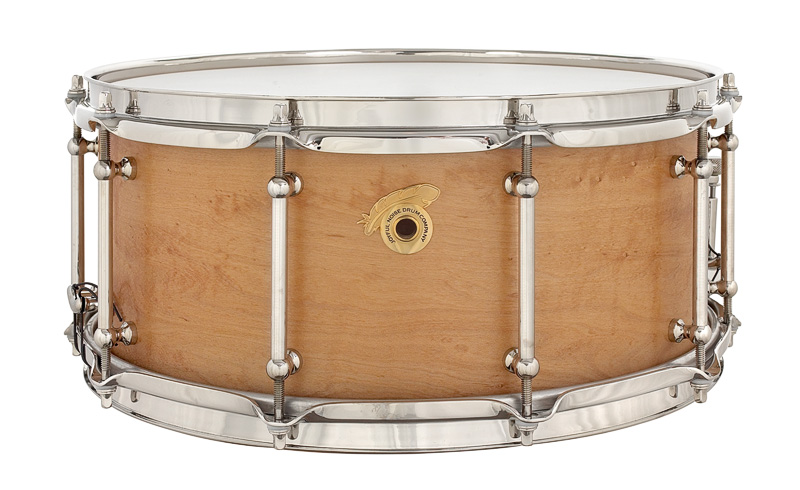 The JNDC Legacy Series feature reclaimed submerged North American hardwoods, which are old growth (600 to 800 years) reclaimed timbers, having been submerged in the Great Lakes over 150 years. The result is an extremely dense shell material with less mass, due to the wood being submerged under water for over a century. As a result, this wood is considered the quintessential wood for musical instrument construction.
The JNDC Legacy Figured Maple snare is made from a hand-selected plank of musical grade North American Figured Maple, which is steam bent and milled into perfection. These special planks consist of Bird's Eye Maple, Flamed Maple, or Blistered Maple, depending on the seasonal availability of these very rare logs. Figured Maple is denser than conventional Maple timber and, as a result, translates into an instrument with greater projection and musicality.
Figured Maple is North American hardwood renowned for a clear high-end register; but due to the lower mass of submerged timber, the Legacy Series Figured Maple snare is exceptionally warm and powerful, possessing extraordinary middle and low-end registers. The tonal quality of the drum can best be described as vibrant, exhibiting a breath and openness uncharacteristic of a wood shell. The Legacy Figured Maple snare response is also extremely sensitive and articulate within all dynamic ranges, making it the ideal instrument for any musical application or genre.
With bearing edges finished to machinist-grade tolerances and vintage-inspired snare beds cut to maximize snare response and color, these fine instruments are finished in a hand-rubbed pure Tung oil finish to maximize their vibrance and unrestricted performance, both key attributes of JNDC steam bent wood shell design.
The Legacy Series model design and hardware consist of 2.5mm solid brass bright nickel-plated triple flanged hoops, ten solid brass bright nickel-plated Corder tube lugs, vintage-inspired snare beds, 24k gold-plated brass JNDC feather motif drum badge, and the bright nickel-plated proprietary cast bronze JNDC "One Touch Classic" snare drum strainer (throw-off) system. Bright nickel-plated solid brass single flanged hoops are available upon request.
A certificate of authenticity, serialized lapel badge, JNDC Strainer Tutorial DVD, and a complimentary embroidered soft shell case accompany each instrument.
Order Fulfillment Time: Approximately 90-120 Days