BIOGRAPHY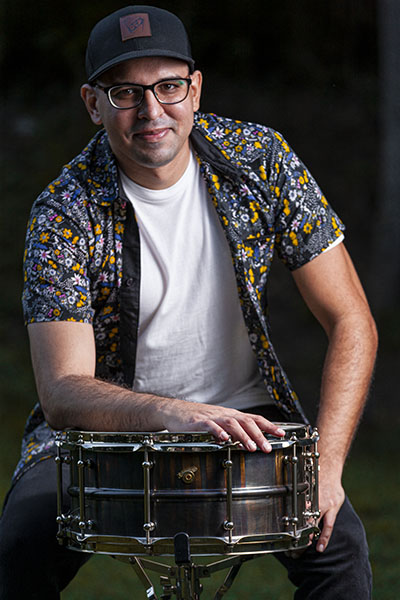 Born and raised in Valencia, Venezuela, Gabriel Fuenmayor purchased his first drum set, with the help of his family, at the age of 14. He immediately began taking private drum lessons with renown teachers such as Alejandro Lamas (drummer and percussionist for Marcos Vidal), Francisco Polo (Carabobo Symphony Orquestra), Jorge Félix Rodriguez (Carabobo Music Conservatory, El Sistema), Andrés Briceño (director/founder of the Simon Bolivar Big Band Jazz), Daniel Criado (jazz master in New York) and Angel Balán Brito (pianist).
Having started his musical career in the high school marching band, along with his passion, love and discipline, Gabriel quickly started working as a session drummer, performer and educator. At age of 18 he was given the opportunity to work at the TMV (Valencia Music Technology) where he remained from 2005 to 2010 as Titular Professor Music Chair from. He also worked as an instructor at the CanZion International Institute from 2012 to 2015.
Gabriel has performed and toured with well-known artists such as Pedro Eustache, Pablo Gil, Juan Cristobal Moreno, Carmelo Medina, Road Jazz Band, UC Jazz, June 24 Big Band, Junko Quintet, Junko Big Band, Robert Coronel, Mezclao Group, All Jay, Mata Rica, Rifaat, and Valientes Church. He has also worked as session drummer, recording for "South of Broadway Theater company" in Charleston (South Carolina), and the Disney Animation's "Stugo "TV Show.
Gabriel Fuenmayor is a signed artist for Bosphorus Cymbals, and he is very happy to be a part of the Joyful Noise Drum Company family of artists. Says Fuenmayor, "I am dedicated to serving God in gratitude for salvation, love, mercy, talent, music and faith.
... All things are possible to him who believes.
— Mark 9:23